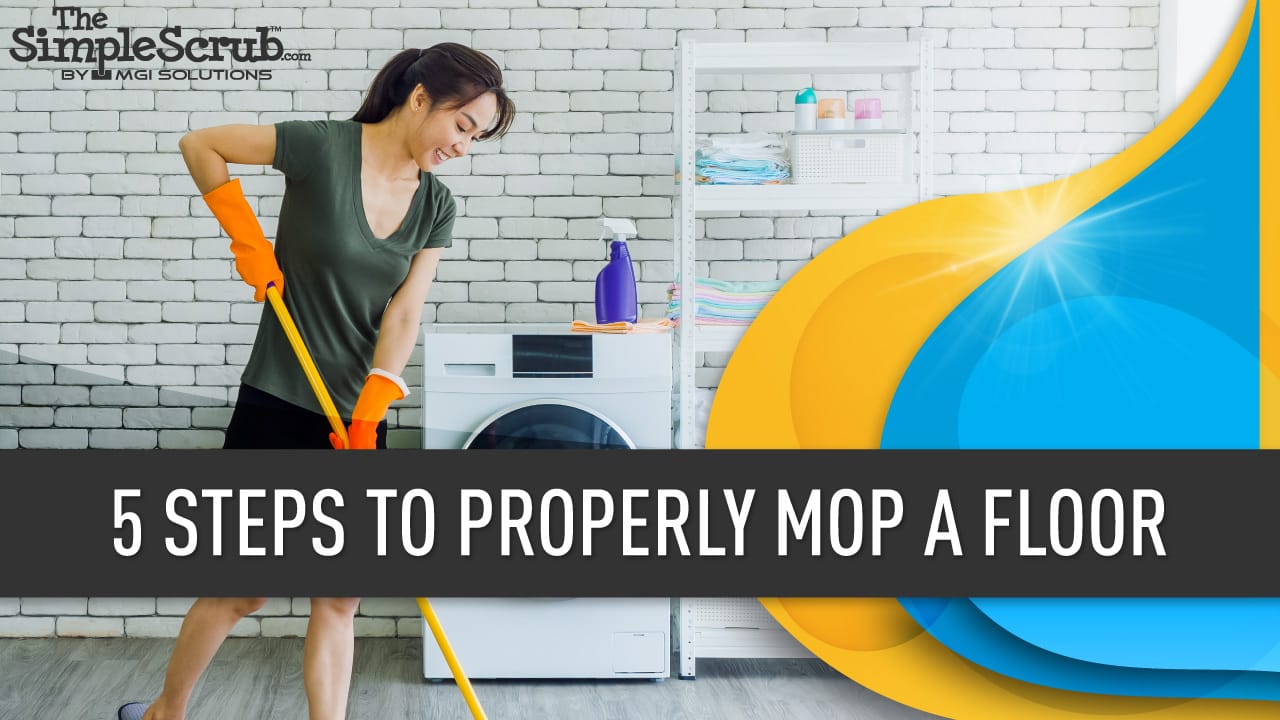 5 Steps to Properly Mop a Floor
Cleaning the floor: a task we all must do regularly, but one that no one enjoys. If you practice a few key steps, however, you can ensure that your cleaning job is deep and thorough, keeping your home sanitary and prolonging the time between cleanings. Here are the 5 steps to mop your floor in the best way possible.
1. Sweep the floor first
If you don't, you'll just be pushing dirt around. Your mop can't pick up crumbs, little papers, or even large amounts of dust. Also, little pieces of debris can scratch your floor. Give it a nice, dry clean sweep first.
2. Choose the right mop
This is probably the most important step. Mops have evolved for the better over the years so make sure yours isn't from the fifties. There are several mops on the market that are effective and make the job easier than the traditional spaghetti head mop. My suggestion is the Simple Scrub. It comes with changeable pads and an ergonomic grip, so you don't need buckets for rinsing. Its head also swivels to reach those tough corners.
3. Have a good system
Depending on what cleaner and mop you're using, try to create an easily repeatable system. If you're using the suggested The Simple Scrub mop, simply start from the farthest corner from the exit and work towards it, taking it section by section. Check the mop's cleaning pad and change it appropriately. You might not have to change it at all. If you're using an old school system with buckets, make sure you have one designated for rinsing the mop.
4. Wipe in the right direction
If you have hardwood floors, make sure to go in the direction of the wood. For other floor types, generally, you can make small figure eights going back over heavily soiled spots. Make sure you're mopping with your body between the mop and the exit so you don't have to walk on your freshly cleaned floors while they dry.
5. Let it air dry
Maybe this goes without saying, but let your floor dry completely before you, your friends or your pets walk on it. Walking on a freshly mopped floor will cause it to dry with marks.
Upgrade How You Clean Today
Cleaning your floor shouldn't hurt your back, involve kneeling or crouching, or take hours out of your day. The Simple Scrub is here to help with that. It has a lightweight and ergonomic design, and can handle a variety of surfaces, and easily cleans corners and tough-to-reach spaces. This cleaning tool is made out of strong aluminum and won't bend or break, and the powder coat ensures that even in the most humid conditions The Simple Scrub won't rust. The cloth pads included are extra-absorbent and easily exchanged, eliminating filthy mop heads.
Additionally, The Simple Scrub is designed to make sure you stay far away from the chemicals you are cleaning with. This helps your health and makes sure you don't spend your time breathing in chemical fumes. No more kneeling or scrubbing with a washcloth – The Simple Scrub will keep you and your home clean and sanitary. For more cleaning insights and to view the best cleaning tools on the market continue to explore our website.
---